Raw Chia Energy Bars Recipe
A powerhouse of nutrition packed into one bar! Containing chia seeds, coconut oil and dates these energy bars will give you the energy boost that you need.
Chia seeds –  high in omega 3 which is good for heart function, high in protein, iron and antioxidants.
Dates – strong bones and healthy teeth due to Calcium and Magnesium. The high fibre content keeps you full for longer and aids in keeping the digestive system healthy.
Coconut oil – packed full of nutrition like sodium, potassium, magnesium, calcium, vitamins C, B1, B2, B3, B5 and B6. The sodium in Coconut is helpful to cleanse the lymphatic system.
Maca Powder – is a good source of protein, great for energy, libido, stamina and endurance and menopausal symptoms.
Enjoy as a snack or a healthy breakfast alternative.
Ingredients
¼ cup mixed seeds & nuts (pepitas, sunflower, linseed, almonds etc.)
½ cup dates
1 cup puffed millet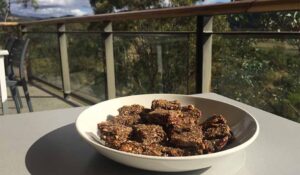 1 cup rice flakes
¼ cup shredded coconut
¼ cup cranberries or currants
½ cup chia seed
¼ cup coconut oil
¼ cup fresh orange juice
1 tablespoon carob powder (optional)
1 tablespoon maca powder
2 tablespoons tahini
2 tablespoons honey
Method
Crush seed & nut mix in food processor
Add dates and process until a paste is form with nuts
Add all remaining ingredients and process until all ingredients are combined and form a paste
Transfer into a tray with baking paper underneath, press flat to about 1.5cm
Chill overnight and cut into bars.
Makes 20 portions.